"Seeing is believing" is literally true for LaVision's ParticleMaster comprehensive imaging solutions
Thursday, 5. May 2022
In fact, one can "see" particles even as small as 4 μm!!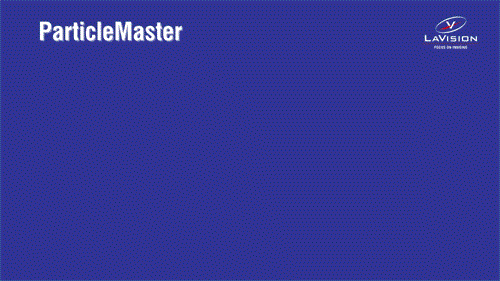 LaVision's ParticleMaster systems simultaneously measure the size, shape and velocity of particles, droplets or bubbles for all spray & particle sizing applications. Choose from a table-top laboratory, on-line production monitoring or flexible R&D systems.

Particle imaging of spray droplets play a crucial role in the product development and quality control of different types of sprays. With the robust ParticleMaster imaging solutions from LaVision, the broad spectrum of droplet sizes in a free air spray can not only be visualized but also the important inner spray details (droplet size, shape, velocity, mass flux) and all the associated statistics can be tracked in real-time!!

LaVision's ParticleMaster inspex online can be remotely controlled via a Modbus interface. This, along with its rugged IP67 design, hygienic housing, and particle sizing capabilities as low as 4 micrometers, makes it ideal for process and quality control in production lines.

With the special DOF (depth of field) calibration ParticleMaster deliver highly accurate particle characterization. Only this allows for truly accurate particle sizing, correctly weighted particle statistics and mass flux determination! Best of all, ParticleMaster inspex systems are fully pre-calibrated. This is why the ParticleMaster is the best choice for your particle characterization applications to get the most accurate results.

Using multi-camera shadow imaging and tomographic reconstruction, particles, droplets and bubbles can be visualized, tracked and quantified in 3D-space. This can give valuable insight into applications such as the break-up of effervescent pharmaceutical tablets in the digestive system, the generation and distribution of bubbles in cavitation situations or the movement of aerosols such as sand.

For more details on LaVision's ParticleMaster systems, please visit our website here and to learn more about industrial particle sizing applications, please click here.